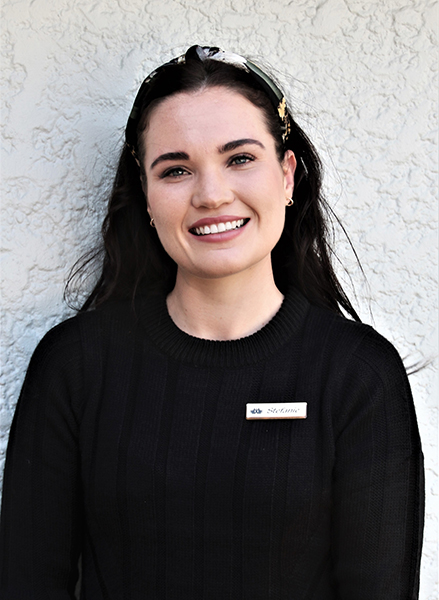 Stefanie van Zyl
Physiotherapist
---
B Sc Hons Physio (UWC) 2020

Field of Interest:
Rehabilitation & Pilates, Neurological conditions, Chronic pain conditions, Orthopaedic and Respiratory conditions, Hospital treatments, Community Health and General Wellness
Special Interests:
Exercise & Pilates, Education to empower, Neurology
MORE ABOUT ME
---
I was born in Cape Town and grew up on the West-Coast, where I matriculated from High School Jan van Riebeeck, after which I was hungry to explore the world. So, I worked abroad and had the privilege and opportunity to experience new cultures, languages, food, people, and beautiful and interesting places. I enjoyed walking the historic streets of Rome, baked in the sun and swam in the ocean in Spain, walked along the magnificent cliffs of Ireland, ice-skated on the Eiffel Tower and much more! On returning to South Africa, I continued to explore various fields of interest, after which I was accepted to study a science degree at North West University. However, my heart's desire was to work in the medical field and so I was unexpectedly blessed to study physiotherapy at the University of the Western Cape. I graduated in 2020 and completed my community service year in the rustic valleys of the Eastern Cape. What a valuable season this was! Here I experienced, that physical therapy seldomly only rehabilitates the physical, but many times provides the opportunity to touch lives and reach communities in profound ways.
I find most joy in the field of neurology (such as strokes) and chronic pain conditions, as well as community health and wellness. I, however, strive to be a well-rounded physiotherapist and work to gain new knowledge, experience and skills. Thus, I prefer the variety of working with both in and out of hospital patients. For me specifically, the part of my profession that fills me with a sense accomplishment is not speciality specific – rather person centred – when a patient leaves in less pain than they arrived, seeing the joy and hope people experience when reaching goals, when patients feel heard, understood and empowered about their condition and the plan of action going forward. I experience that patient's fears are many times due to a lack of knowledge about their condition and prognosis, therefore I firmly believe the first step to rehabilitation is patient education.
My pastimes include going for scenic walks (of which Hermanus has no shortage!) while listening (and singing along) to music. I also enjoy (attempting) to make quick sweet treats – most of which tend to fail due to putting my own spin on recipes of course! My favourite meal is definitely breakfast – any time of the day…or night! I enjoy pilates, yoga and dancing – whether it be ballet or making up my own moves! Furthermore, I am keen on exploring: local markets, small towns, road tripping, new coffee shops, etc. After a long day, a cup of tea and a cookie uplifts my soul - the answer to most of the world's problems (in my opinion). I also enjoy spending quality time with people and my beautiful golden retriever woof.
Last, but not least, I believe that being a physiotherapist is my profession, but touching hearts, empowering people and being of service, is my calling. I look forward to assisting and working with you in reaching your goals and will even throw in a good chat and laugh!
---